Hello fellow orchid members,
I know finishing is a common problem and I'm hoping for some
advice–either on finishing or avoiding having to re-finish. I have
been making multi layer sterling pendants where there is a space
between the layers to create depth (see attached). My problem is
trying to finish between the layers, since there is really no way to
get flex-shaft accessories in there.
I've tried polishing the insides before soldering them together, but
they always seem to need lots of clean up. I've tried using Rio's
StopOxII and tried making my own surface protectant. I made mine
using anhydrous ethyl alcohol and boric acid (is this an acceptable
type of alcohol for the recipe?) but the boric acid falls out of
solution quickly I worry there isn't enough there to protect the
work…
Upon reviewing some of the archives, someone said Prips works better
to prevent fire stain than boric acid/alcohol. Is this true? Should I
try depletion gilding the inside before soldering the pieces
together? I'd ideally like to keep the option of a polished surface.
Would a tumbler get in there without damaging the pierce work on the
front?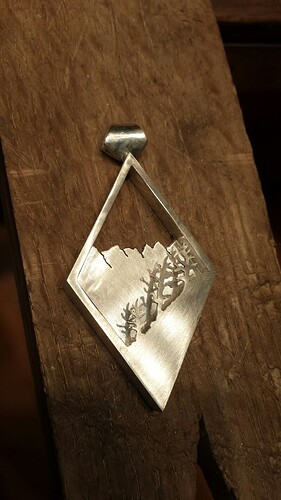 I'm at a loss. Any thoughts or suggestions.
Regards,
Mark