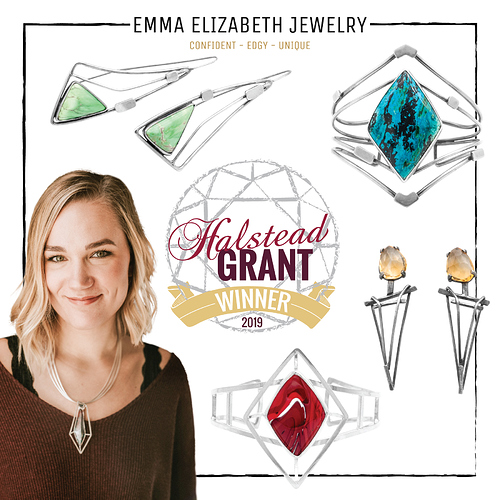 Emma Elizabeth Jewelry wins 14th annual Halstead Grant.
Annual grant is awarded to new jewelry businesses based on jewelry design and business prowess.
PRESCOTT, AZ (Sept. 17, 2019): Emma Hoekstra has won the 2019 Halstead Grant for new jewelry businesses. Her company, Emma Elizabeth Jewelry, is based in Grand Rapids, Michigan but sells nationally. Emma receives a $7,500 cash grant, $1,000 in jewelry supplies, a trip to Prescott, Arizona, the cover and a feature spread in the grant publication Reveal , a feature profile and jewelry showcase in the 2020 Halstead catalog, press assistance, a detailed feedback report from the judging committee, and a signature trophy.
Grant founder and Halstead President, Hilary Halstead Scott says, "We are thrilled to present this award to such a deserving emerging artist. Emma applied to the grant three years in a row and we have seen her business develop by leaps and bounds each year."
Emma graduated with a B.F.A from Grand Valley State University in 2017. Her jewelry career began after the tragic loss of her boyfriend. Metalsmithing classes allowed Emma to channel her grief into creating her art. She studied abroad in Florence, Italy where she began envisioning her jewelry collection. Emma is a member of SNAG and the American Craft Council. She was a Top 5 finalist in the 2018 Halstead Grant competition.
Guest judge Liz Kantner says, "Emma's work is just what I've been looking for - she combines wearable and edgy in a flawless way. Her attention to detail and use of beautiful stones makes her collection something I've been coveting since exploring her work during the judging process. Not only is the design and craftsmanship beautiful, but her plan was thoughtful, realistic and showed growth from her previous application. Very impressed by her and am looking forward to following her, purchasing a piece and watching how her brand grows!"
Emma's collection features bold lines and angular organics. Her tagline "Confident – Edgy – Unique" says it all. Her pieces use simple geometric shapes in new ways and can easily go from the office to a night out. Most of her collection runs from $25 - $600, though her one of a kind pieces will vary depending on which hand-picked stones are used. She also creates commissioned bespoke jewelry for clients. Emma's jewelry can be found on her website https://www.emmaelizabethjewelry.com and at various festivals and events. She is also expanding her gallery availability.
Judge Kelli Vanyek Greene added, "Emma took the judges feedback from her 2018 application and really stepped up her game for 2019. Her business and marketing plan paired with her beautiful collection of jewelry is very impressive. I am excited to follow her jewelry career."
In addition, the Halstead Grant competition recognizes other strong entries as finalists. Results within each group are in no particular order. The Top 5 finalists are S. Howell Studios, Lot 28, Yote Jewelry and Samantha Slater Studio. The Top 10 finalists are Gillian Trask Design, Cassondra Justine, Leo Handcrafted Goods, Colleen Elizabeth Designs, and Christine Bates Jewelry. Top 5 finalists receive $500 and Top 10 finalists receive $250.
The Halstead Grant began in 2006 to bring the business plan concept to the jewelry community and encourage makers to establish clear goals and measurable steps toward self-sufficiency. The Halstead Grant application process guides participants through the elements of a complete strategy for entrepreneurship. Participants all receive general feedback from the competition jurors, with finalists receiving individual feedback reports specific to their entries.
The 2019 judging committee included Halstead President Hilary Halstead Scott, co-founder Suzie Halstead, as well as Halstead's Marketing Project Manager, Kelli Vanyek Greene, and guest judge Liz Kantner. Kantner is a marketer who specializes in digital marketing and strategy for jewelers.