There will be times that we need someone to assist 'us' in gemstone setting. I, for one, had this situation where an extra 'pair of hands & fingers' were needed! Upon receiving this expensive engagement ring, I saw & encountered many problems. These problems are now being 'discussed & displayed' in great detail.
With this newest essay, I'm explaining "how & why" these problems were never fixed! The solutions are so very easy, but sadly that setter never had the experience in preventing such simple occurrences!
I photographed the many problems that were left alone and not even bothered to be 'fixed'. It's so sad not every setter knows how to prevent these errors in the first place.
Please understand that these errors should not have been left to the wholesaler (me) to view! If you see any more errors, then don't have them seen at your bench-peg!
Who said 'Diamond Setting is easy and that prong/claw setting can be learned in 'one or two' days/weeks? How about 'one or two'…YEARS? But having the knowledge of realizing that mistakes can and will happen. This is an ongoing task of educating folks who need to be taught the basics of gemstone setting and fabrication.
Enjoy the pages of text with many important photographs…remembering that all of these pages are for free!!..:>)
---
I gave this ring to another setter just to speed up the finishing process , I then noticed some 'irregularities' (using a kinder word) with his setting.
I took some photographs of the finished ring for 'us' to examine and critique! Let's just say " I am not at all pleased with his setting results". .;>(
He presented me the 'finished ring', but his setting of the 1.50 carat diamond was still 'loose' in the mounting… OUCH!
The very first thing I would have done is to Bright-Cut the inside rim of the 'claw basket'. This area just can't be cut once the stones are in.
There should have been some serious using of a "Triangular file, #4" to additionally round off the "overlapping" sections of the claw-tips. (BTW, just what are those little lines on the inside of the right side of the claw??)
Can you see the 'rough finish' of the yellow gold just below the mini-stone setting area? How is this going to be cleaned? I'd use a Bud bur of #006 or even a Bud #007 and carefully clean & remove the 'rough, casting-texture'!
Can you still see the 'over-run' of the Rhodium plating right side and on top of the diamonds that are set?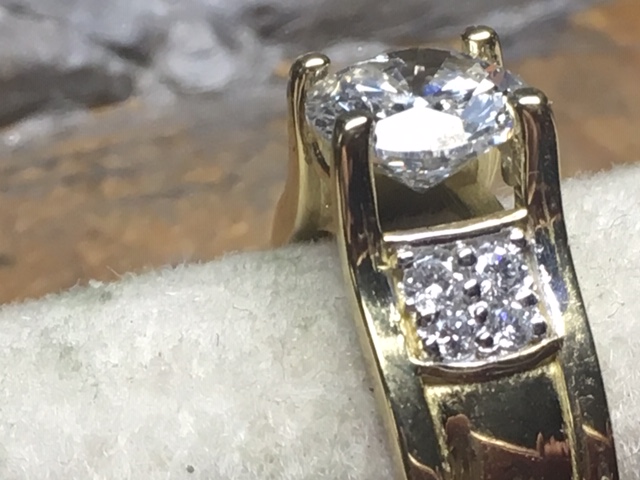 Why wasn't the 'cleaning process' more exacting? I'd never let this 'cleaning' reach this far, so very disturbing to see it 'finished' in this mediocre manner!
Why are the claws/prongs so darned high and they appear to be above the 'table' of the stone? The "claw-height" could eventually rip the clothing and loosen this stone … again !
What are those little indentations in the metal on the outside of the settings? These are the telltale markings from the bead-burnisher touching the square area where the diamonds are.
BTW, there was no effort in Bright-Cutting any area before the stones were set!!! This alone would make the stones shine much brighter. Bright-Cutting would have removed all CAD-carving marks.
On the 'bottom row of diamonds' , you can easily see a little 'dish' around some of those claws. Just how would have these marks be avoided?
I would have used a "Pumice wheel of #180 grit" then followed by a "Pink Pumice wheel @ #1,000 grit" to carefully remove those little marks.
In this interesting photograph, you can just easily see how the claw 'stands like a pole' and as these are waiting to cause problems while being worn! Please don't set your expensive diamond in this manner!!!
These claws will cause major problems in the short-term wearing. The bearing cut for the thick-girdle was not taken into consideration. I would have used a #006 or a #007 Bud-bur with the 'same thickness as the diamond girdle' to carve out a wider bearing cut, thus to allow for the thicker & wider, "Girdle-edge".
These 'burnisher markings are so easy to see! There was no effort in cleaning after the setter set his stones. You can still even see more Rhodium plating on the top of the setting areas!
I am very critical of my own setting labours. I use a great phrase, "I've used this setter twice…first and last time!"