I am trying to recreate a cheap necklace for a friend in Sterling.
He adores this $5 necklace and has worn it continuously for about 5
years straight. (yuk!) The component I'm seeking advise on is a bent
tube with a window cut out for the leather cord to show through.
My first thought was I could grind away the window at a belt sander,
which I don't have. Out in the garage Mr. Fox has a grinder! One
nano second at the grinder and I burnt off my finger prints. So I put
the bent tube in my vise and filed away. I need to make 10 of these
pieces, with some resemblance of consistency. As you can see in the
scan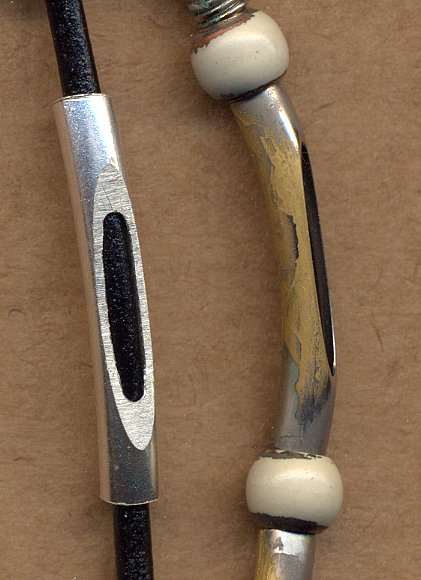 I have obviously selected a tubing much thicker than the original,
thus the thickness alters the appearance quite a bit. If I wanted to
remove more silver at the peaks of the window what should I use? Am I
going about this the wrong way? I respect any advise you can offer a
novice.
TIA,
Terri Ann