Annual Lewton-Brain Foldform Competition Winners Announced
The winners are in for the 2013 Lewton-Brain Foldform Competition,
with a list of entries from conceptual works to wearable art,
sculpture and mixed media constructions, the Center for Metal Arts
announced this weekend.
Entries to the second annual foldform competition came from
Argentina, Australia, Canada, England, New Zealand, UK, and 16
states in the U. S. While many entries continue to be explorations
of foldforming as a jeweler's technique, entrants also included
functional works, large-scale public sculptures, and the inclusion
of unconventional materials.
First Place in this year's competition was awarded to Yuka Okane
Inoue of Lake Forest, Illinois, with "Looking Up At the Sky II", a
3" x 3" x 3.5" sculpture in sterling silver, fine silver, Japanese
alloys and diamond.
Second Place was awarded to Rauni Higson with "Persephone", a raised
vase with foldforms in Britannia silver at 21.65" tall. Higson, who
is from Caernarfon U. K., was the First Place winner in the
inaugural Foldform Competition.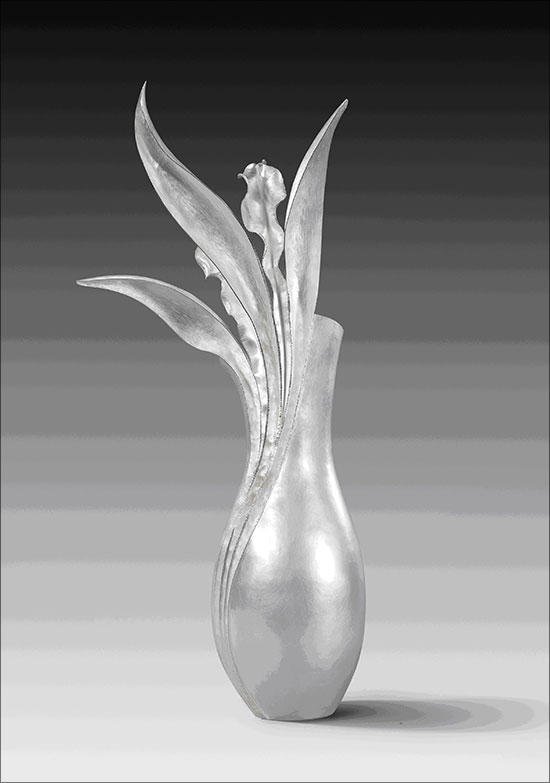 Ed Lay of El Cerrito California was named Third Place with "FF Bowl
5" in copper and vitreous enamel, a bowl of cross and line folds
within synclastic and anticlastic curves.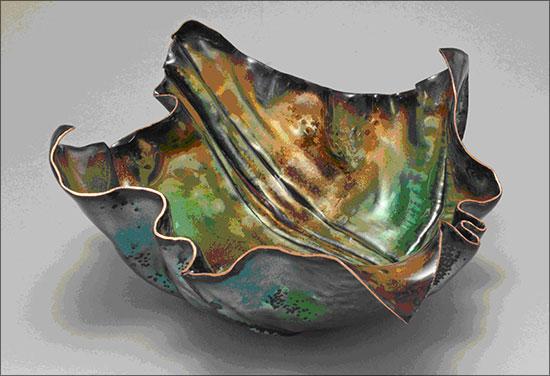 This year the judges awarded two Honorable Mentions, one to Gayle
Whiteley Minjarez for "Origami Bracelet" in sterling and reticulated
silver at 1" x 6 - 3/4",
and one to Eva Zuzuarregui for "Viento en Cara", a necklace of
sterling silver at 8.5" x 6.5" x.5". Minjarez and Zuzuarregui are
artists in Santa Barbara and Carlsbad, California respectively.
The judges also made a selection of Jurors' Choice winners which
will be featured along with the prize winners in a second annual
video of the best entries. The top prize winners and Jurors' Choice
selections will also planned to be published in hard cover and
e-book form.
Jurors' Choice winners are, in alphabetical order, Mira Benoni's
"Blooming Basket", Pat Downing's "Untitled", Robert Fear's "Star
Earrings", Christine Finch's "Gathering", Rauni Higson with
"Fore-armed" and "Spinal", Denys Knight with "Winter Moon" and
"Riptide", Ed Lay's "FF Bowl 6", Kenneth MacBain with "Salt and
Pepper Shakers" 1 and 2, Mary K. MackIntyre with "Por Frida" and
"Georgia's Orchid", Yuka Okane Inoue's "Find Me; I'm Here", Kaiya
Rainbolt's "Evolution", Liz Reed's "Leafy Sea dragon", Bill Robert's
"aSpire", Greta Shiegg's "Zipper Cuff", Catherine Sheedy's
"Connexion", and Susan Thornton's "Swirling Leaves".
http://www.ganoksin.com/gnkurl/ep80hs
Judges for the competition were Charles Lewton-Brain, Hazel Wheaton
of Art Jewelry Magazine, and Rhoda Weber Mack of Center for Metal
Arts. The competition is hosted by the Center or Metal Arts, and
sponsored this year by jewelry supplier Rio Grande and Art Jewelry
Magazine. Sue Lacy was competition director.
The Center for Metal Arts launched the annual foldforming
competition to document the evolution of foldforming techniques
since the 1980's when it was first developed by Charles
Lewton-Brain. The annual event is open to entries worldwide. Images
of the competition winners are posted on
http://www.ganoksin.com/gnkurl/ep80hm
and next year's competition will be announced in early 2014 on these
sites. The competition coincides with the annual summer Foldform
Workshops with Charles Lewton-Brain at the Center for Metal Arts in
Florida, NY.
Lewton-Brain and other metal artist educators give workshops
throughout the year at the downstate NY metal arts teaching studio,
with weekend and small group instruction. The Center for Metal Arts
is located in the black dirt fam community of Florida in the Hudson
Valley just one hour north of New York City, in the historic 1890's
Borden's Creamery Icehouse. Workshops and events are posted on
http://www.ganoksin.com/gnkurl/t5 and the studio is open for
visitors to explore the icehouse gallery floor.