We have a display case for sale. Price is $400. This jewelry case was
made around 1950 by a company in Rockford, IL. It measures 63" long x
22" deep x 33 1/2" tall. Not sure of the wood, possibly walnut. It
was refinished in 1980 because it originally had a "blond" finish and
we wanted to get back the original wood look. It shows some normal
wear. We had a jewelry store and these were our display cases. We
retrofitted the lights as they were originally hard wired and were
turned on by a switch. Now all you have to do is plug the lights into
a socket. Very heavy as well. Would have to be local pick up only and
by 2 people at least. The inside display area is about 7" tall. Let
us know if you have any questions. We are located in Loves Park, IL
which is about 60 miles northwest of Chicago off I90 (the toll road).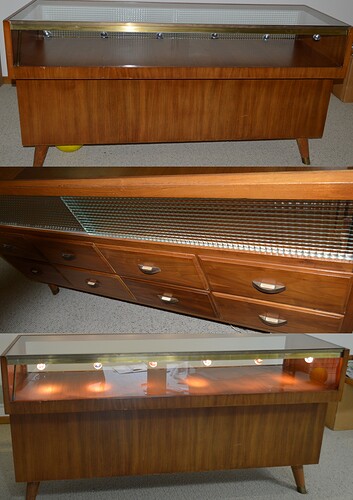 Thank you,
Richard and Julie Dennis
815-885-2000